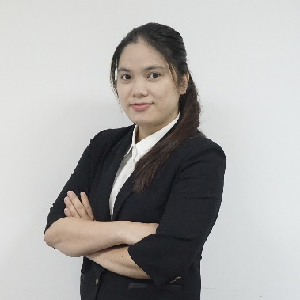 Nguyen Ho Thuy Tien
Senior – HCM Office
Please tell us what made you decide to join HSKV.
Dynamic, professional working environment with enthusiastic, dedicated and visionary members are the strengths that attract me to become a member of HSKV family, creating conditions for me to improve my knowledge, professional skills in auditing as well as accounting, tax and other fields.
Besides, HSKV has set up the daily English communication environment between Vietnamese staff, Japanese experts and foreign partners. This gives me the opportunity to practice, learn and improve my English communication skills a lot.
What do you do at HSKV?
Currently, as Senior staff, I am in charge of 3 bookkeeping services, 2 reviewing services and join 8 to 10 audit teams. HSKV is a middle-sized audit company so I get to have lots of opportunities in various works, which makes my knowledge deeper and wider.
Sometimes I feel overloaded, however, my colleagues always support me and our management always pays attention to my work volume, so I am very comfortable to work for HSKV.
What were the challenges you faced?
At first, due to incompatibility to the organization and working process at the Company, it was difficult for me to meet the requirements of the job. However, with the dedicated guidance and attention of my colleagues, I realized that I need to try harder to overcome my weaknesses and complete the assigned tasks well. And I'm really grateful for that.
Besides, when I were in charge of audit contracts that require working directly with the head of the department as well as the chief accountant of the client, who sometimes felt that I am young and has not experienced enough for them to trust. This was a challenge but also an opportunity for me to realize that I need to try to learn not only about knowledge but also in communication and behavior so that they feel secure and trust when working with me.
Another challenge was leading and managing the team as an audit team leader. Because each team member had different strengths, weaknesses and skills, applying a synchronous management method made it difficult for me. But I got through many audit jobs, I realized that it is important to set up the initial working process, apply the method of flexible management according to each object, listen, share, to accomplish the common goal of team. I always try my best to become a reliable team leader by learning from my predecessors.
Please give a message to the candidates.
HSKV is a reliable place for you to learn, practice and grow on your career path in accounting –auditing – tax consulting.